Media
This site is going to document the progressive evolution of the project using pictures, videos and inserted 3D objects. In order to have the 3D presentations of the product displayed and viewed correctly and to be able to manipulate with them, please download free accessory 3DVIA Player browser, in case you haven`t got it yet..
On this occasion you can also visit 3DVIA.com – one of the most important 3D web communities with an open platform which accepts most 3D files, including CAD and other standard formats (OBJ, DAE, 3DXML, STEP a IGES). Users host their 3D models, include them in virtual showrooms via 3DVIA Scenes and "bring them to life" in 3DVIA Studio environment.
On this community`s platform you can visit a discussion group going in for the Flying Bike project.
You can also become active members of the community and share your own 3D models with others.
Presentation of the flying bike for MSV 2012, 3DVIA Composer
By: Svatopluk Juřena, Technodat (September 2012)
download: Dreams can become reality
for animation: 
Use Composer Player
Next Media Animation News Direct animation of flying bike
Heliflix and F-bike model Maiden Flight
By: HELIFLIX
Initial idea of a Flying Bike
By: Milan Duchek (November 2011)
Conceptual design of the initial idea
By: Michal Křivan (February 2012)
Mechanical design
By: Jan Cinert (April 2012)
Ways of visualisation in CATIA V6
By: Jan Cinert (April 2012)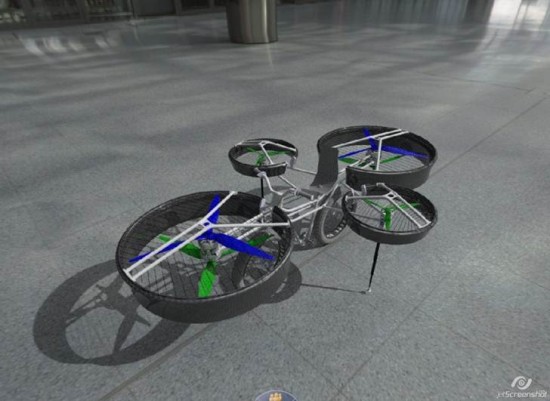 Digital mock-up of Flying Bike, 3DVIA Composer animation, AVI export
By: Svatopluk Juřena, Technodat (May 2012)
Digital mock-up, CATIA V6 environment, online access to data
By: Jan Cinert, Technodat (May 2012)
Digital mock-up of Flying Bike, 3DVIA Composer
By: Svatopluk Juřena, Technodat (May 2012)
for animation: 
Use Composer Player
Flying Bike, project presentation for the press conference
May 2012
Digital mock-up, CATIA V6 environment, visualization
By: Jan Cinert, Technodat (May 2012)
images of digital mock-up, archiv 17,9 MB